lessons, clinics & coach education
Karen Crommelin has 20 years experience as a qualified Equestrian Australia Coach. As a Specialist Dressage Coach she is available for private dressage lessons, clinics and coach education.
Karen is available for private lessons of 45 minutes duration. She will travel to your arena for lessons within 25km of her home at Eumundi for which there are no travel expenses. Other areas are possible by arrangement.
She also uses facilities of local indoor arenas for lessons. Stay tuned to her Facebook Page for more information on this.
Karen is available for clinics with groups or schools. In addition to private dressage lesson clinics she welcomes bookings for gymnastic training clinics using poles for dressage horses, young horse training clinics, test practice riding clinics using her skills as a judge and introductory horse riding and management clinics using her skills as a coach educator and assessor.
Karen teaches adults and children
Student Katrin Haddon & Urubula Park Revenge
As an experienced coach educator Karen can start you on your journey to becoming an EA introductory coach right through to Level 2. Sessions can be conducted in groups or individually.
If you don't want to coach but just want to learn more about horse management and riding in a structured way, Karen can help you complete your Introductory Horse Management and Riding certificates using the workbooks which can be purchased from Equestrian Australia. Karen can guide you through this material and assess you.
Completing successful coaching assessments
Student State Interschool Champion Anna MacMillan & Le Moulin Rouge
Student Megan Drennan on Flash and Glamour winning the CCN105 Quirindi 2014
Karen with student Kirsty Egan and Argentille Germaine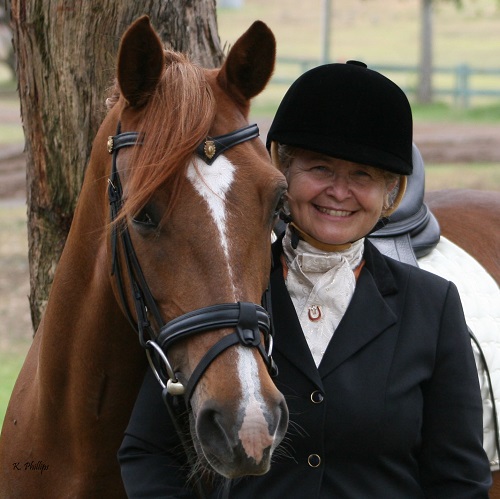 Coming to horse riding later in life, and to the daunting sport of dressage was challenging. Karen understood of my passion for a partnership with my horse, had an appreciation for my aging joints and guided me through lessons and competitions. Few coaches have such a combination of competency in the foundation basics of horse and rider, supportive and motivating teaching techniques, and a genuine love and compassion for horses. 
Helena-Grace Greening & Toffee